Why Did Mold Damage Take Root in My Marina Del Rey Home?
2/7/2018 (Permalink)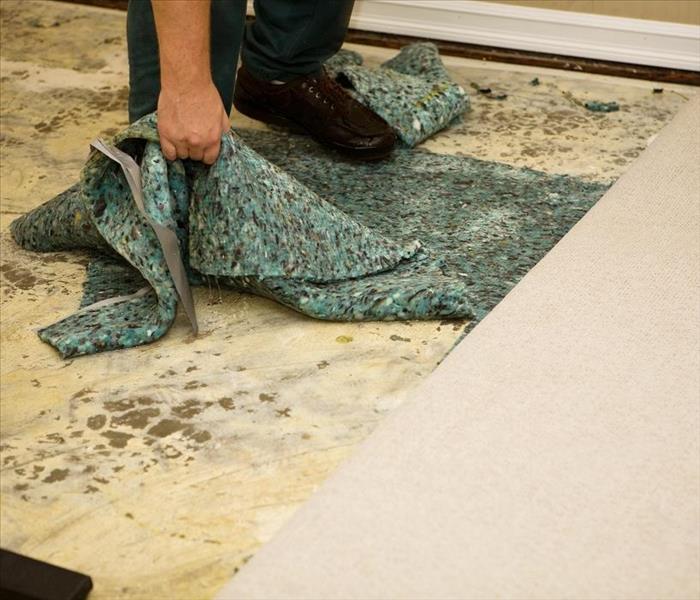 It is not uncommon to find mold growing on old carpet. Keeping your home updated can help reduce the risk of a mold problem in the future.
SERVPRO Offers Fast and Efficient Mold Damage Remediation Services
If you have found mold damage in your Marina Del Rey home, you should immediately seek treatment and professional advice. Mold can spread quickly and, in some cases, cause health effects for you and your family. You may wonder why mold has begun to grow in your home, and if you could have done anything to prevent that. While mold damage can happen to anyone, there are some ways that mold could have been introduced to your home beyond natural processes.
Someone Tracked It In
Mold damage to Marina Del Rey homes can result from a family member, pet, or visitor accidentally carrying in a large quantity of spores from the outside. This can happen when the individual in question works in unsanitary conditions or has recently spent time in a natural area. Most commonly, stepped-on spores attach to a foot or shoe and are later shaken off inside your home, but they can attach themselves to almost any surface for transport. A welcome mat outside your front door coupled with feet-wiping habits can be enough to protect your home from this cause in the future.
There is a Moisture Leak
Most mold colonies cannot thrive without a steady stream of moisture. In some cases, humidity in the atmosphere may be enough to spur growth, but most infestations also have a source of liquid water. SERVPRO technicians have access to advanced moisture detection tools such as thermohygrometers to identify and track down sources of water in the home to cut off growth at the source.
Materials May Be Due for an Upgrade
It might not come as much of a surprise when your fifty-year-old carpeting is the first material in the house to start growing mold. As some materials age, they can become more susceptible to opportunistic fungal spores. Giving your home a facelift may significantly reduce your chances of developing a mold problem in the future.
SERVPRO of Santa Monica / Venice Beach provides expert mold remediation services to a broad local area. If you suspect mold has found its way into your home, give us a call at (310) 395-9050.
Click here for more information on Marina Del Rey.