What Are the Greatest Long-Term Flood Damage Threats to Your Santa Monica Home?
6/10/2021 (Permalink)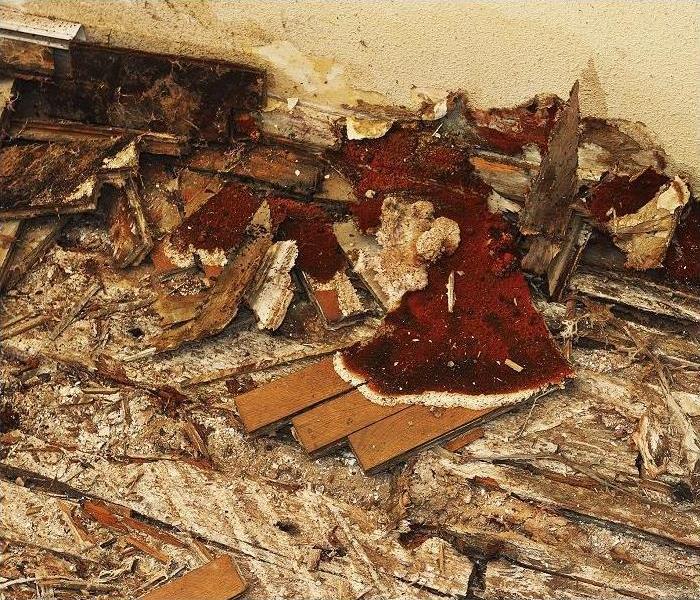 Mold damage is often a result of flooding. Inspect your property after a storm for signs of leaks, and call SERVPRO to completely remediate the damage
Microbe-Related Issues Are the Most Significant Long-Term Flood Damage Threats.
Although invisible to the naked eye, the microbes in floodwaters are what impact your Santa Monica residence the most in the long run. These destructive microorganisms can undermine the structural integrity of your home, foul its air, and eventually render it unlivable.
Suppose your Santa Monica home's flood damage is not effectively cleaned up by a competent biohazard remediation company like SERVPRO. In that case, harmful flood-borne microbes could proliferate throughout your residence and wreak havoc on it. Some of the costly problems these microscopic troublemakers can cause are:
Dry rot that can destroy or undermine the integrity of ceilings, walls, and floors.
Hazardous bacterial growths on surfaces, resulting from human/animal excrement and other organic deposits that may cause health effects.
Discoloration/damage arising from thriving mold colonies and mildew.
Foul persistent odors that are nearly impossible to eliminate without commercial-grade tools and deodorants.
Fortunately, SERVPRO provides highly effective emergency water damage services that can usually resolve whatever flood-related issues your home may have. We perform everything from water removal services and sewage cleanup to complete water damage repairs. After all our work is complete, homeowners often have difficulty believing their home was ever flood damaged.
Keeping all this in mind, remember that your helpful friends at SERVPRO of Santa Monica/Venice Beach are always prepared to assist you. Contact us at (310) 395-9050 whenever you need flood damage remediation.