Are Possessions Salvageable After a Housefire?
10/20/2020 (Permalink)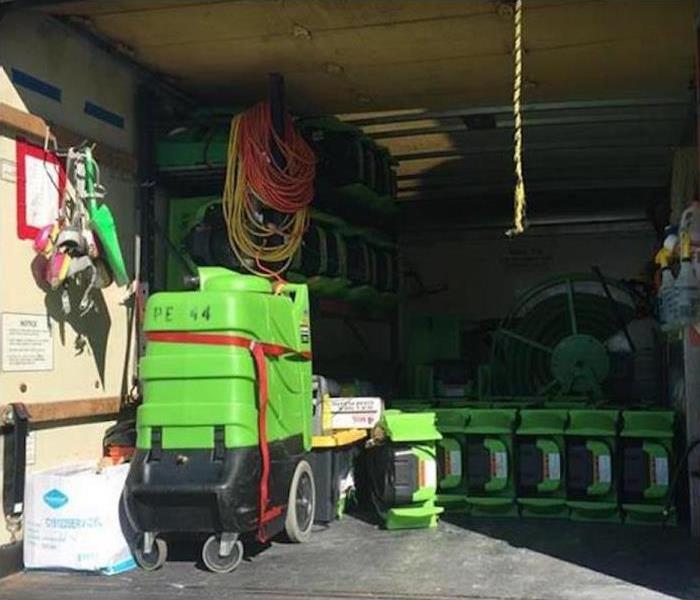 Each vehicle in our Green Fleet is loaded with equipment for any fire damage restoration situation that you incur.
A Good Fire Damage Restoration Service Can Often Restore Contents Damaged in a Housefire. SERVPRO is Available in the West Los Angeles Region
What happens to contents in a housefire?
Homeowners that are unfortunate enough to experience a property fire in West Los Angeles find that some items combust entirely, leaving nothing but soot behind. Other, more robust, possessions can frequently be restored to a good condition. Combustible materials tend to be of less value, except for artworks or documents. Valuable possessions like ornaments or wood and upholstery can frequently be cleaned to remove smoke residues and returned to you in a preloss condition. SERVPRO technicians are experts at planning and executing fire restoration of your contents.
What types of contents cleaning methods are used in fire restoration?
Dry cleaning which is used in the removal of light to medium non-grease-based soils and can be done with dusters, cloths, sponging, or vacuuming
Wet cleaning can help remove smoke residues from contents but should be pre-tested on a discrete area before use.
Spray and wipe cleaning methods are used by misting the surface with a cleaning solution then wiping with a clean, dry towel. Sensitive fabrics are best treated with the spray and wipe method.
Can cleaning agents be used on materials that are strictly dry cleanable?
When we perform fire damage restoration in your West Los Angeles home, we take extra care when dealing with sensitive materials. Some materials shrink under the presence of moisture, which makes dry cleaning the only option. Dry cleaning solvents can help to remove light soot and soils from sensitive fabrics that can withstand temperature increases. Items like draperies are typically good options for dry cleaning solvents.
What are the two types of dry-cleaning solvent for sensitive fabrics?
Petroleum-based dry-cleaning solvents are useful for light soiling on sensitive fabrics but can harm rubber materials, so they should be used cautiously.
Volatile dry solvents have quick evaporating particles that can work effectively against paint, oils, and grease.
If your home and contents sustain damages from a fire, contact SERVPRO of Santa Monica / Venice Beach at (310) 395-9050.