Why Should I Hire Professionals for Fire Damage Restoration in My West Los Angeles Home?
7/14/2020 (Permalink)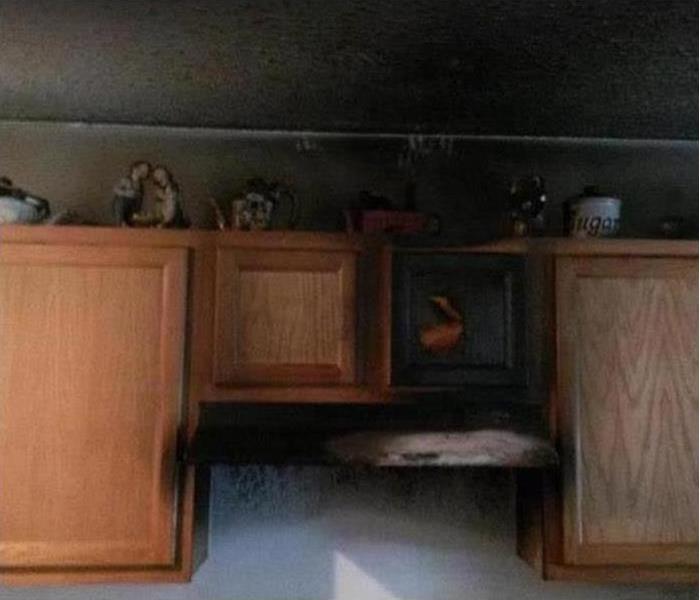 Restoring fire and smoke damage is difficult. SERVPRO has the tools and experience to make it "Like it never even happened."
West Los Angeles Residents Profit from the Specialized Scientific Training and Certification in Fire Damage Restoration Obtained by the SERVPRO Team
After a household fire in West Los Angeles, the soiling left on structures, fixtures, and contents seems hardly related to even the most challenging dirt or grime seen in your home previously. Water and charred debris complicate matters. Property owners do well to wait for a thorough assessment of the soot by professional restorers before proceeding with the cleaning. Why chance any additional damage when our team is trained and experienced in effective fire damage cleanup?
Are There Physical Dangers for Individuals Cleaning Up Fire Damage Residues?
Ordinary, untrained cleaning attempts to achieve fire damage restoration in your West Los Angeles residence are likely to smear, spread, or otherwise make the soiling worse. The ground in soot and staining will need more intensive and expensive cleaning, and removal and replacement of materials in severe cases. Although the possibility of permanent structural damage is troubling, more concerning is that the residues are highly toxic. Skin contact with surface contamination or inhalation of airborne soot, gasses, and other substances potentially exposes you and your family to risks that could impair health or well-being. Certified fire restoration technicians are trained in safe and effective methods to remove soot and leave surfaces free of contaminants. We continuously train to manage these dangers so you can attend to your calendar's responsibilities and the needs of your family.
What Precautions Do Professional Restorers Take to Ensure Safety During Restoration?
When SERVPRO crews arrive, a safety assessment is a top priority in determining the fire damage restoration plan. We are familiar with most fire sites' typical safety issues but are also aware that each scenario is different and inspect accordingly. Some of the concerns we address include:
Firefighting water:
Contains contaminants, including fire extinguishing chemicals and fire residues
Can collect in building cavities that might threaten collapse
Needs release, extraction, and drying before soot cleanup can begin
Structural integrity:
Firefighting water load combined with extensive charring and even burn through structural supports weakens everything from ceilings and walls to floors and framing
Heat-shattered windows and doors and decisions made during firefighting to cut into structures to locate hot spots affect the home's supporting structure
Air quality:
Smoke contains an endless list of potentially hazardous now-airborne substances
Odor-bearing particles disperse, setting up conditions for persistent stenches to affect your home even after it looks clean and sanitized
Cleaning of unsafe residues and substances:
Soot covered surfaces and contents need evaluating for the types of residues deposited or absorbed and the best products, tools, and techniques to clean them
If any biohazardous materials crop up during inspection, we arrange for certified technicians to remove and dispose of them legally -- examples include:
Mold
Asbestos
Lead (often found in homes constructed or remodeled in the 1970s or earlier as paint)
Health and well-being of restoration workers
Health and well-being of you and your family:
During the project, we safeguard our customers and other occupants of affected property through containment efforts, including wrapping work areas in 1.6 mil polyethylene and negative pressure air scrubbers to prevent the drift of harmful substances.
Health and well-being of restoration workers:
Because of our technicians and managers' proximity to a broad range of hazardous materials and substances, we provide and require them to wear personal protective equipment during the restoration project.
What About the Restoration of My Home's Contents?
Our recommendation for a pack-out of either or both fire damaged or unaffected furnishings, household goods, and personal possessions are possible after a West Los Angeles fire. Moving some or all your belongings away from your residence permits us to:
Sequester unaffected contents to prevent smoke, soot, or other residues from damaging them
Evaluate fire-damaged materials to determine if and how our specially trained production facility technicians can clean, dry, disinfect, and deodorize everything from clothes to books to electronics and more
Use unique equipment and processes to restore items:
Freeze-drying for papers, books, and photos
Ultrasonic tanks to utilize sound waves to dislodge embedded soot and other residues on nonporous items
Small chambers to use deodorization equipment and manage the drying process
Industrial washers and dryers for textiles, and access to dry cleaners and electronic cleaning specialists
Hire SERVPRO of Santa Monica / Venice Beach with confidence to assist with restoration during the aftermath of a home fire. Our highly qualified and equipped team can be at your service with one call to (310) 395-9050.