What Does Fire Damage Restoration Involve?
6/11/2020 (Permalink)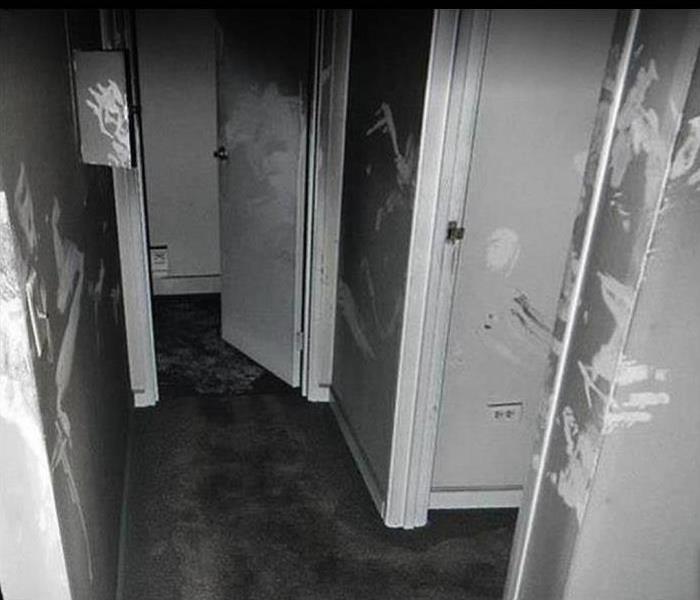 Wildfires are common to Southern California. SERVPRO has the know-how to remove and soot and smoke damage from your home.
Fire Damage Restoration Services in West Los Angeles Focus on Cleaning Up Harmful Soot Residues and Eliminating Unpleasant Smells
The hot, dry late summer and early fall months in Southern California often mean an increased risk of wildfires. These fires are especially troublesome in the brushy hills just to the north of West Los Angeles. As brush fires in this wilderness area burn, winds can quickly spread the flames into neighboring communities. Also, since residential zones are quite dense in this part of the state, fires often spread rapidly from house to house once they reach local neighborhoods. Fortunately, when such natural disasters occur, there are area services that can help.
How are Interior Surfaces and Personal Property Affected by a House Fire?
Fire damage restoration in West Los Angeles primarily involves cleaning soot residues off affected surfaces and neutralizing odors related to them. The burning process is a chemical reaction that produces and deposits multiple smelly compounds on surfaces around your home. These foul-smelling gaseous and solid mixtures are responsible for most damage to materials remaining after a fire. They often impregnate structural elements and household items with odorous particles. Many of these particles are acidic and can, over time, discolor materials and corrode metallic surfaces. Some of the many things affected by such damage are:
HVAC systems
Structural elements like floors, walls, and ceilings
Various household fixtures
Attic rafters and insulation
Furnishings and other personal property
To prevent further harm to these affected parts of your home, you need the assistance of a proper fire-damaging cleanup and restoration company like SERVPRO.
What are the Ways SERVPRO Cleans Up Fire-Related Residues?
As previously explained, fire-related residues are responsible for most of your home's post-fire issues. Therefore, to fully restore your residence to its original condition, they must be appropriately cleaned up. SERVPRO employs a variety of means to do just that. These include:
Removing non-grease residues by pressure washing impacted structural elements
Using dry cleaning sponges to wipe away non-grease smoke deposits
Cleaning up greasy residues with white vinegar solutions or tri-sodium phosphate (TSP)
Employing the peroxide active cleaning technique when remediating delicate, heavily soiled surfaces
Eliminating charring and heavy residues with scrapers, wire brushes, or abrasive blasting methods
In these various ways, our trained technicians can often successfully remove most types of damaging odorous residues from your home.
What Other Gear is Used to Remove Airborne and Material-Embedded Odors?
Neutralizing the unwanted smells of fire damage usually requires the use of advanced tools. This equipment is not readily available to the public and requires the right training to use it effectively. Some of the professional-grade gear SERVPRO employs to eliminate fire-related smells includes:
Deodorant injection devices that neutralize odors in upholstered items and carpeting
Ultra-low volume (ULV) foggers to deodorize affected areas of your house
Thermal foggers that aerosolize deodorants to counteract foul smells
Pressure sprayers for eliminating odors emanating from structural elements
High-velocity box fans and air movers to rapidly ventilate your residence and remove airborne smells
Ozone generators that counteract odor-causing particles with ozone gas
Scrubbers that filter out odorous indoor particles and pull in clean outdoor air
Vaportek systems that aerosolize natural oils to neutralize fire-related smells
HVAC cleaning systems to remove soot residues from various ventilation conduits
Our technicians, using all these high-tech tools, are generally able to remove the most harmful odorous residues from your home. In doing so, they help prevent fire-related smells from continuing to circulate throughout your residence.
As you experience the seemingly endless hot sunny days of Southern California, remember that they come with a cost. Months of dry, cloudless days eventually lead to brush fires in the hills surrounding West Los Angeles. These blazes can start without much warning and rapidly spread into the densely populated nearby communities. Once in these residential areas, fires can quickly engulf multiple residences and do extensive damage in minutes. The destruction caused by these natural disasters is unpredictable and can vary significantly within an impacted zone. Some homes may be total losses, while other neighboring properties are minimally affected.
Although it is rarely possible to prevent a wildfire from damaging your home, companies like SERVPRO can help you clean up in their aftermath. Our experts can effectively remove smell-producing soot residues that can cause adverse health effects and harm household surfaces. In eliminating these substances, SERVPRO protects your home's interior and its contents from discoloration and corrosion. We also help prevent the future recirculation of unpleasant fire damage odors throughout your home.
With all that said, if a wildfire ever impacts your residence, help is available. Call SERVPRO of Santa Monica/Venice Beach at (310) 395-9050.