How SERVPRO Cleans Flood Damage in Santa Monica
3/4/2020 (Permalink)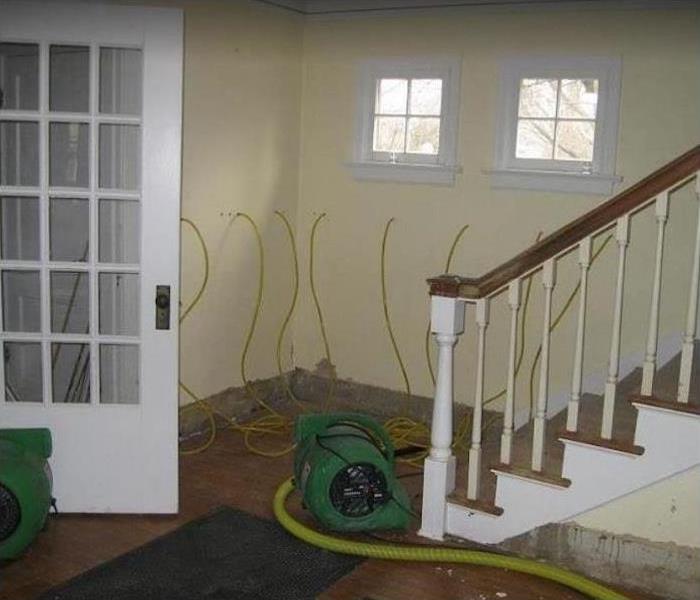 Scene from a science fiction movie? No. Just SERVPRO equipment doing its job. Call us today to restore your home.
What Does Proper Cleanup of Flood Damage in Santa Monica Involve?
After a flooding incident, your home may be full of mud, silt, and other debris. The water that pools on the floors also contains a cocktail of contaminants, including insecticides, biohazards such as raw sewage and industrial chemical traces. Cleaning up your home thoroughly after a flooding incident is therefore mandatory. We offer professional cleaning services within Santa Monica that help your home attain the sanitary preloss conditions.
Debris might pile up when there is flood damage in Santa Monica homes. Such debris may originate outside the home or could be part of the contents damaged during the incident. Removing debris improves the battered look of the premises and paves the way for other restoration steps. Our SERVPRO technicians pick debris strewn all over your property and use heavy-duty plastic bags or trash cans on wheels to hold them before disposal.
Porous materials in the house, including carpets and pad, absorb water and the dissolved contaminants it holds. Cleaning such items to remove all traces of the contaminants is not possible, so the best solution is to remove them. Such materials are also considered hazardous, thus requiring specialized disposal. Our SERVPRO technicians remove the carpet and pad, cutting it into small square pieces for proper disposal. We also make flood cuts to access insulation and other porous materials on the walls for removal.
Apart from removing affected building materials and contents, cleaning up all areas reached by the floodwaters is essential. Such cleaning should remove visible soils and contaminants, some of which may be invisible to the naked eye. Our SERVPRO technicians use pressure washers and multi-surface scrubbers to remove soils from different surfaces. We also use various professional cleaning products, including antimicrobial agents, disinfectants, and sanitizers, among others to remove contaminants or limit their development.
For thorough cleaning to restore the sanitary preloss conditions in your San Tan Valley, Higley, or Gateway home, call SERVPRO of Santa Monica / Venice Beach to assist. You can reach us at (310) 395-9050 at any time. We're Faster To Any Size Disaster.
More about Santa Monica.