How SERVPRO Uses Pack-Outs Services to Clean Contents After a Santa Monica Fire
9/17/2019 (Permalink)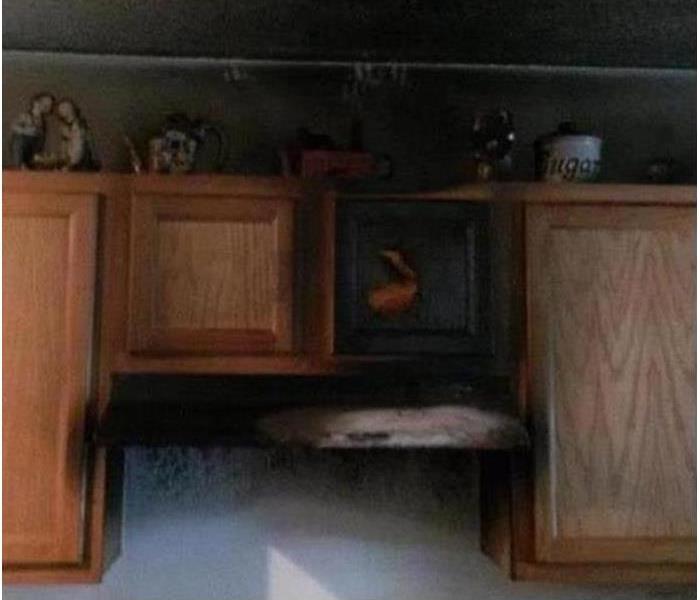 Although fire damaged the cabinets, all was not lost. We were able to restore most of the collectibles to their preloss condition.
Contents Cleaning After Fire Damage in Santa Monica
Fire does not discriminate when harming the structural components and contents of your Santa Monica home. The heat, smoke, soot, and firefighting efforts affect all surfaces, fixtures, household goods, furnishings, and personal possessions. You need full-service fire recovery company that offers options to complete cleaning of each category of the property efficiently and professionally. Our team often recommends a pack-out to ensure that the structure, installation, and each movable item receives the specialized attention it needs to make it like "Like it never even happened."
Pack-Outs Improve Outcomes for Structural Damage
The first moments and hours after the firefighters leave are an overwhelming and chaotic combination of water, chemical, and fire damage in your Santa Monica home. Putting remediation efforts briefly on hold to pack up and move out the contents in affected areas might seem to create unreasonable delays and cause more worry and confusion. On the contrary, clearing the damaged spaces in your house of furnishings, household goods, and personal possessions permits our on-site team the freedom to focus on water removal, soot evaluation and appropriate cleanup, and odor elimination in the structure alone.
Pack-Outs Protect Your Possessions
Moving your movable property from the fire scene is advantageous for each item packed and transported. Immediate mitigation of more intense damage results as the lingering smoke and stirred-up debris residues in the house can no longer adversely impact your belongings. When viewed inside your damaged home, you might feel under pressure to throw out even treasured items. Our SERVPRO's skilled Contents Processing Technicians (CPT) assess each item at our production facility. We consider the feasibility of using the cleaning, drying, deodorizing, and restoration products, tools, techniques, and equipment we have available. Ultrasonic cleaning immersion tanks, industrial-grade washing and drying machines, small chamber drying and deodorization, and freeze-drying are some of our resources.
We Adhere to a Restorative Frame of Mind
We can return heirlooms, photos, papers, linens and clothing, furniture, and many other objects to function and appearance. Every step of the process, we consult with you and your insurer. Our goal is to minimize out of pocket expenses while preserving memories and the undefinable sense of home you feel when your house and possessions reunite.
SERVPRO of Santa Monica / Venice Beach uses our Contents Claim Inventory Service (CCIS) to document and secure items we process at our production facility. Call us at (310) 395-9050 to arrange for full-spectrum property recovery.
More about Santa Monica.