Do You Know How to Determine Which Flood Damaged Materials in Santa Monica Need Discarding?
9/4/2019 (Permalink)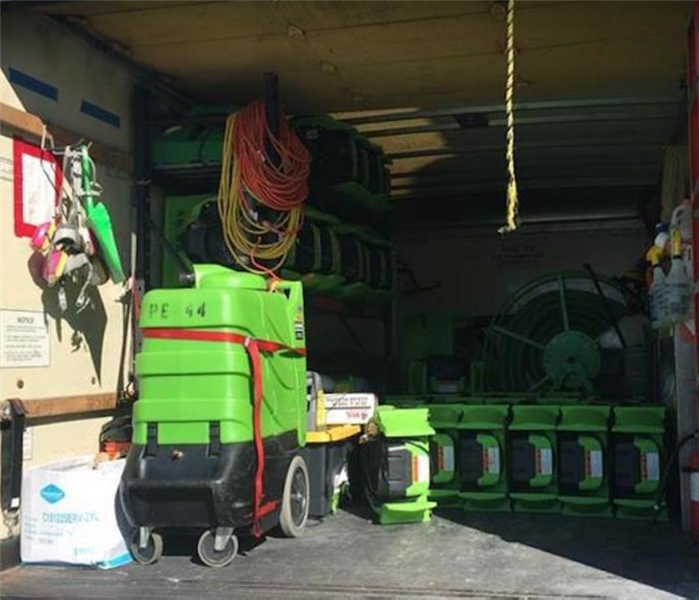 When we arrive at your home, we are ready to tackle the job. Vehicles are stocked with state-of-the-art equipment to address surfaces to be restored.
What Materials Get Removed When Santa Monica Homes Flood?
Flooding recovery is often a challenging and overwhelming situation for Santa Monica homeowners, especially when you assume that the entire property is a loss. Our experienced team can address these concerns with practical extraction and drying approaches, and based on the situation and its severity, might only have to remove specific overly damaged construction materials. The only instance in which excessive demolition and build back is necessary is following a Category 3 contamination situation involving Black Water with either known or unknown contaminants.
Knowing how these situations get decided and what structural elements might need removing during the mitigation of flood damage in Santa Monica, helps our customers understand what to expect. Depending on the level of potential contamination and the severity of the spread of this water damage, our SERVPRO team can often focus our thorough inspection and potential controlled demolition tactics in specific areas of the house.
Trim
While walls are often victims of spreading water damage and standing water, baseboards in the rooms of your home are among the first points that become affected and saturated by this disaster. In some situations, the wall itself might be able to get preserved and protected while our professionals only need to remove specific portions of overly saturated baseboard, window, or door trim to discard it.
Flooring
Between carpeting and hardwood, your floor can absorb substantial volumes of floodwater when it becomes exposed. Protecting these structural elements might not be possible but drying them out involves the use of specialized equipment that can help to remove moisture from carpet padding or slowly draw moisture from planks in a controlled and deliberate fashion. Unless it gets determined to be necessary for the health of those exposed, we can work to preserve these affected and damaged elements, however possible.
While we do not relish the idea of controlled demolition, as we are always a team that focuses most heavily on restoration and recovery before replacement, we have the experienced technicians and personnel to handle these tasks. You can always count on the experience of our SERVPRO of Santa Monica / Venice Beach restoration technicians 24/7 by calling (310) 395-9050.
More about Santa Monica.