We Help You Get Back To Business After A Flood Disaster In Santa Monica
7/20/2019 (Permalink)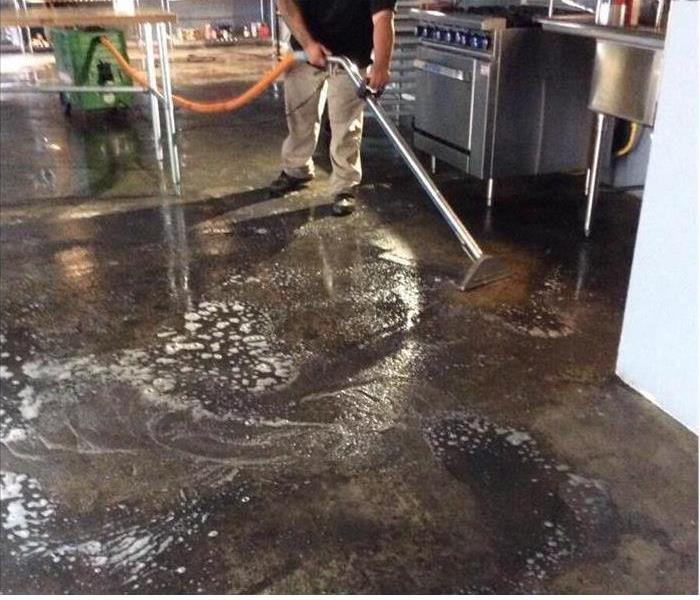 Call our SERVPRO experts for a commercial cleaning job in Santa Monica. We have the expertise and equipment necessary.
Professional Flood Damage Restoration In Santa Monica
With an ocean making up our entire western border, Santa Monica residents can be vulnerable to flooding with every storm that rolls up the coast. Restoring homes after such a water intrusion requires a trained team of professionals prepared to remove water quickly, and then clean and dry the home.
Since flood damage to Santa Monica comes from an outside source, it contains sand, dirt, and dozens of other contaminants. It is considered 'black water,' and SERVPRO uses several specialists like Applied Microbial Remediation Technicians (AMRTs) and Applied Structural Drying Technicians (ASDs) to remove the health hazard while also drying the home for occupation.
With clean water, our initial action is to bring in pumps and extractors to draw water out of a home. In these cases, an AMRT goes in first and sprays the surface of the water and nearby property with a cleaning agent that contains an anti-microbial or anti-bacterial chemical.
Now, other SERVPRO team members draw out the water. Since the water is still contaminated, removal specialists pump it directly into the nearest sewer access point. If one is not available, the equipment operators pump it into a tank or tank truck for eventual delivery to a water treatment plant.
With the majority of the water now gone, AMRTs begin cleaning every surface affected by the flood damage. Where needed, they remove furniture outside or to another area for more intensive cleaning they cannot perform in the home. Examples include upholstered chairs or curtains that may need immersion into a tank of cleaning agent to return them to a clean, usable condition again.
After cleaning the interior of the home, there is often water still trapped in building materials and behind walls. ASDs carefully remove material too soaked for restoration and then use a combination of fans and air movers to draw out damp air and use carefully directed warm, dry air to force out surface water and moisture trapped in wood such as wall framing. Where needed, they, or an AMRT, spray the area with a cleaning agent one final time to make certain the home is safe again.
For SERVPRO of Santa Monica / Venice Beach, our goal is to help every resident return to their home as quickly as it is safe. If you live here, or in West Los Angeles, Ocean Park, or Marina Del Rey, call us at (310) 395-9050 to begin the restoration process.
See more about Santa Monica.