Treating Flood Damage to Wood Features in Los Angeles
4/22/2018 (Permalink)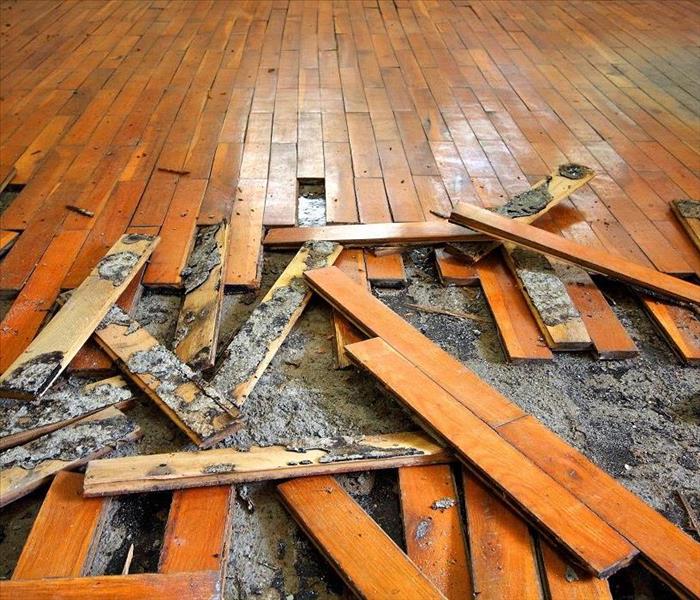 Call SERVPRO as soon as possible to begin restoration work on flood damaged hardwood floors and help minimize the damage.
SERVPRO Technicians Have the Right Tools to Restore Your Home after Flood Damage
When flood damage hits homes in Los Angeles, it can cause irreversible damage to hardwood floors, paneling, staircases, and other wooden features common in local construction. Most of these consequences can be avoided by calling a professional restoration company like SERVPRO to handle damage reversal and restoration procedures, but even in optimal circumstances, we often have our work cut out for us when contending with wood features.
One of the most visible signs of flood damage in a Los Angeles residence may be bending and warping of wood on the property. Many types of wood used in home interiors are not built to withstand inundation in water, stretching and contracting with enough force to sometimes rip nails out of their sockets and tear up other materials along the way. SERVPRO stocks specialized tools and equipment designed to target hardwood floors and other surfaces from both the top and bottom to avoid bending and warping as one side dries out before the other.
While we must work quickly to prevent additional damage from mold or standing water from occurring, we also carefully monitor the area to ensure that nothing goes wrong with the process. If moisture levels fall outside of an ideal range or something starts to go wrong, we can apply targeted, compartmentalized treatments to the area to rectify its problems without affecting the room as a whole. Many types of wood require specific moisture levels to avoid long-term damage, and we must sometimes alter our treatments with these numbers in mind. We rely on both SERVPRO technicians' expertise and highly accurate moisture detection tools to get an accurate reading of the situation at all stages in the process. If you have any questions or concerns about how things are going, feel free to ask us about the situation so that we can fill you in. Our representatives are always happy to help and keep you up-to-date on the project status.
SERVPRO of Santa Monica / Venice Beach has helped local homeowners to overcome flood damage for years. Call us at (310) 395-9050 for our help in restoring your home back to the way it was before.
Click here for more information on the city of Los Angeles.