The Fire Damage Experts of Los Angeles
3/13/2018 (Permalink)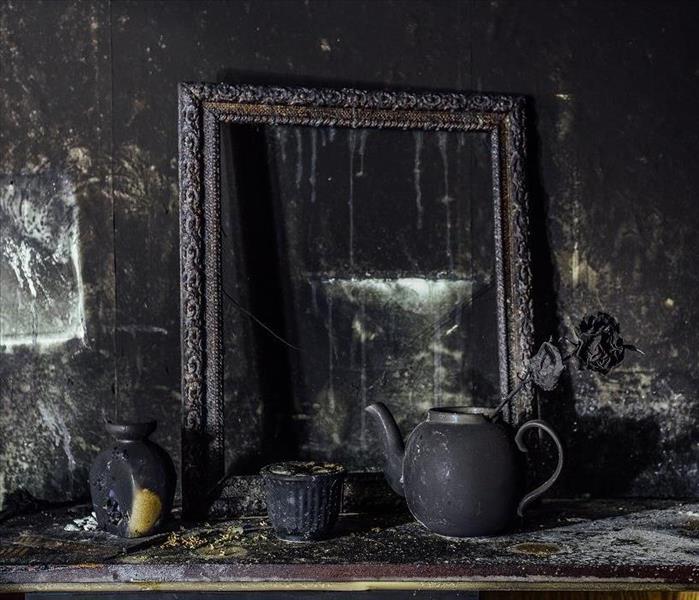 Different surfaces require different cleaning methods, the expertly trained professionals at SERVPRO can properly remove soot from your items.
The Expertly Trained Technicians at SERVPRO Carefully Clean Every Surface of Your Home after Fire Damage
Recently California has been riddled with forest fires. Sometimes wildfires only burn part of your Los Angeles mansion before it gets extinguished. Even if the burn damage is not severe, smoke possibly ruins contents and building materials.
After any severely burnt items get removed from your home, the next step is cleaning soot residues off of contents and materials inside the building. SERVPRO's fire damage technicians in Los Angeles equip specialized chemicals made for cleaning soot residues. Cleaning soot can get complicated and requires knowledge of how to apply the chemicals.
Our IICRC certified restoration specialists vary their cleaning aggressiveness by controlling the application of chemicals. Some surfaces get ruined if specific chemicals are too concentrated when they get applied. Other surfaces get ruined by aggressive scrubbing if cleaning products are not concentrated enough.
Some surfaces cannot get scrubbed without damaging them. When dealing with fragile materials sometimes chemicals that absorb soils work best. Absorption powders often get applied so that they absorb soot, preventing the items from getting ruined by cleaning or scrubbing.
If a surface could possibly get damaged by concentrated cleaning products, there are surface cleaning techniques we use to prevent the saturation of chemicals. When we use specific techniques, we save many materials from getting destroyed during the cleaning process.
Many times the cleaning product gets lightly sprayed onto hard-surface contents and furniture. Then, the chemicals get wiped away with a dry cleaning towel. When cleaning appliances, we always use a specialized glass cleaner to produce a shiny finish.
If items could possibly get damaged when too much moisture from cleaning solutions gets applied, then foam cleaning products get used to remove soot residues. When cleaning products generate foam, less moisture gets applied than other types of chemicals. Many times, foam cleaning products successfully clean carpet and upholstery.
Fires always burn different types of sources that create various kinds of soot residues. To make sure the correct type of cleaning methods get used for the various types of soils call SERVPRO of Santa Monica / Venice Beach at (310) 395-9050 for help 24/7.
More on the city of Los Angeles here.