Remediating Fire Damage in Los Angeles
1/8/2018 (Permalink)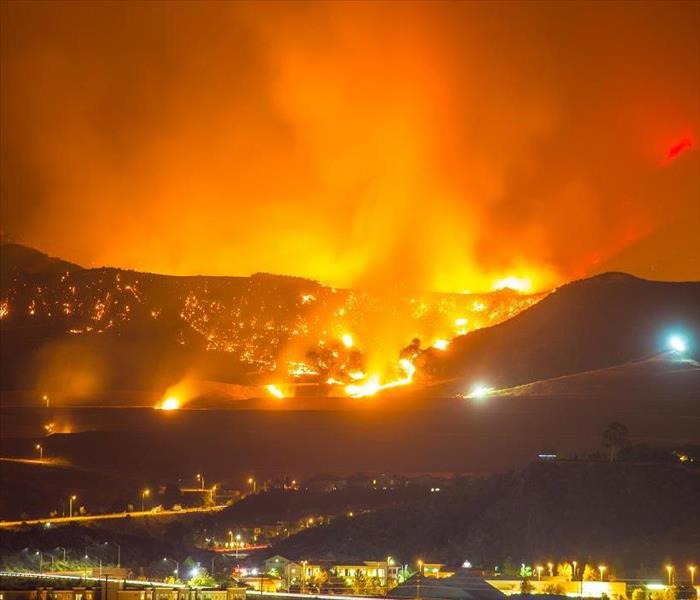 The fires in Los Angeles have left many homes damaged, SERVPRO is here to restore your fire damaged property.
SERVPRO's Fire Damage Remediation Techniques for All Surface Types
The recent, massive fire in Los Angeles cost hundreds of residents their homes and frightened almost everyone else. Thousands of homes and millions of dollars in personal property not lost were still affected by the incredible amounts of smoke and soot generated by the conflagration.
To clean and restore the different types of fire damage to Los Angeles homes, SERVPRO studies the surface of the homes and the property inside as well as the type of smoke and soot residues left by the heat and burning property. Once we know these factors, technicians apply the correct techniques, tools, and products.
Most of our actions involve surface techniques, specifically spray and wipe and foam cleaning. Both methods give us control over how much cleaning solution we use to prevent over-wetting property and accidentally causing secondary damage.
With spray and wipe, our IICRC-certified technicians use a spray bottle to apply either water or one of our cleaning agents. It allows them to target the points of damage without affecting the entire sofa, wall, or another piece of personal or structural property. We then wipe off the dampened residue.
Foam cleaning is a similar technique that uses even less moisture. It is our preferred method on upholstered furniture and other delicate items like sheer drapes. SERVPRO restoration specialists use a pump-up sprayer to apply foam and then work it into the residue with a dry or dampened sponge. We then use another sponge or cloth to wipe off the agent and the residue.
Some surfaces are too fragile for any water-based cleaning agent though. For these surfaces, we use the absorption technique. Technicians cover the surfaces with absorbent powders and then wait until the residue has bonded to them. Next, we use sponges or dry cloths to wipe off the powder or a vacuum if the surface is porous like brick or concrete.
When the item is not fragile and can handle the moisture, we use saturation. The technique allows us to soak cleaning towels in a bucket of the agent, wring it out, and then lay it on the affected surface. Specialists leave the towel in place as long as necessary, then remove it and replace it with a towel soaked in a rinse agent. It removes the residue and cleaning agent completely, and then we allow the surface to dry. If the item is an upholstered surface, we agitate it using a soft brush before applying the cleaning agent towel.
These are only a few of the techniques and tools that SERVPRO of Santa Monica / Venice Beach uses to restore your home and property to its original condition. If you need our services, call today at (310) 395-9050. We are here for you.
Click here for more information on Los Angeles.