Remediating Flood Damage in Marina Del Rey
10/25/2017 (Permalink)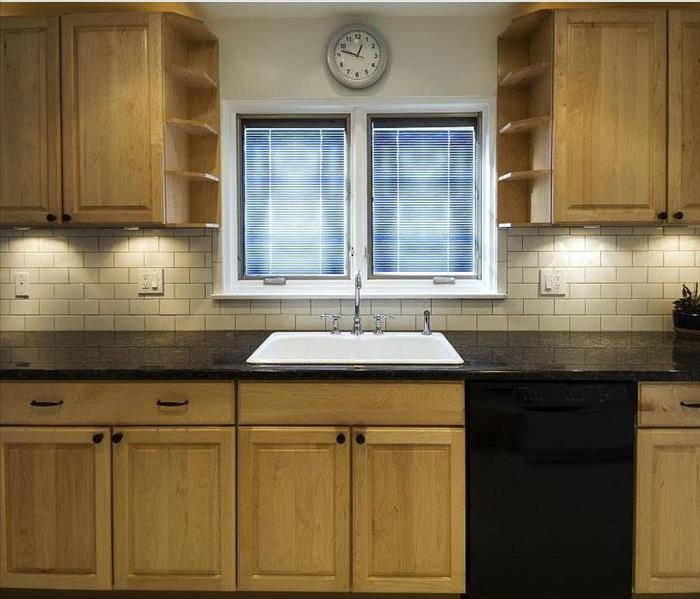 SERVPRO technicians are trained to restore your kitchen cabinets after they have been affected by flood damage.
Quick Remediation for Flood Damaged Cabinets and Furniture
Most flooding does not result in a total or even significant loss of the structure. Marina Del Rey residents find themselves dealing with much smaller issues such as replacing cabinetry and furniture after a storm blows through.
Since most of these items are wood or a wood composite, the flood damage Marina Del Rey homeowners usually have to worry about is swelling, cracking, and weakening of the joints where the pieces fit together. SERVPRO personnel is trained to understand and remediate these effects.
We start with carefully removing the excess moisture trapped in the wood. Since raising the temperature too quickly can cause secondary damage, our technicians first set up dehumidifiers to remove moisture from the furniture and the surrounding air at the same time. Once we determine an improvement to the wood, the next step is to use air movers to force warm, dry air across the surfaces to increase drying without splintering or fracturing the item.
The other problem with wood is it develops spotting, which damages the finish. Usually, we can remove or hide spotting with a wood care liquid or crème we have on-hand. For excessive spotting, technicians transfer the item to our facility to strip the finish and apply a new one. If the furniture piece is considered high-value, we may recommend using a professional refinishing service.
Wood composites like particleboard are more vulnerable to water exposure. Since they are cheaper than solid wood, replacing them is more cost-effective. However, since the exposed side is usually out of sight, minor damage can be treated. If there is no warping visible on the laminated side, technicians lower the moisture content as with the solid wood and the cabinet under the sink or the basement bookcase can be left in place.
Dealing with a flood can be frustrating, but when the damage is limited, we can accomplish in a reasonable amount of time. SERVPRO of Santa Monica / Venice Beach has the experience to put you safely back into a dry home and works with your insurance company to keep costs low. If you need our help, call us today at (310) 395-9050.
For more information regarding Marina Del Rey, click here.