Aging Plumbing Unleashes A Laundry Room Flood
6/27/2017 (Permalink)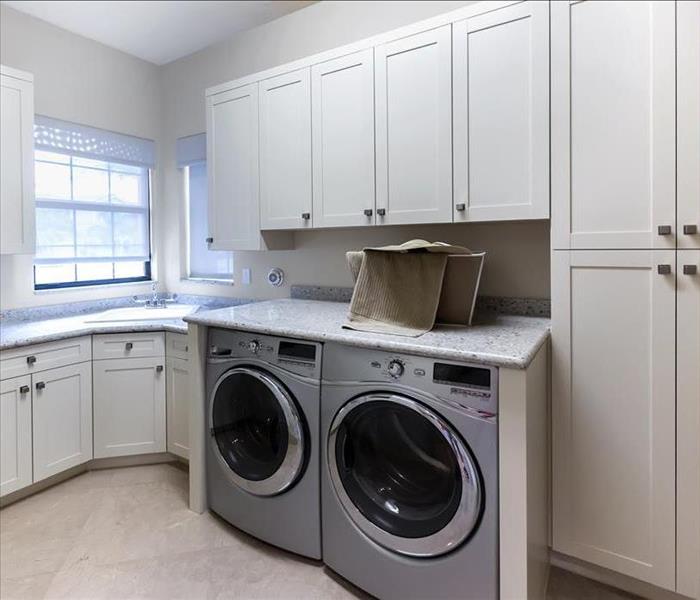 The IICRC approved coursework our technicians receive ready them to provide the highest-quality service to you.
Plumbing Malfunction Can Lead Water Damage in Your Home
Historic homes receive updating in public spaces, but often the utilitarian areas of the house feature decades-old plumbing. Out of date fittings and rarely maintained connection provide unpleasant surprises, rusted through pipes or missing washers causing gallons of water to flood. An SERVPRO flood team removes the water and discovers the source of the leaks, helping homeowners to plan proper repairs.

Elderly plumbing risks flood damage when a pipe bursts or faucet fails in your stately West Los Angeles home. Limit the threat to structures and the contents of your home from this incursion of water by engaging our services as soon as practical after the leak is noted. Water damage remediation is far more successful when begun immediately. Waiting just a day or more significantly increases the possibility of mold growth or permanent damage to walls, floors, equipment, and contents.

From the moment our SERVPRO team enters the affected area expect quick and sure action, based upon industry-vetted training leading to certification in water damage restoration, mold remediation, and more. The IICRC approved coursework our technicians receive ready them to provide the highest-quality service to you, following protocols that return your home back to you clean, dry, and comfortable in a timely fashion. Our workers are expert operators of high-efficiency pumps and water extractors. The also understand the science of positioning air movers and dehumidifiers to remove residual moisture from structures, fixtures, and contents.

The washer, dryer, and water heater in the flooded area require evaluation as to their safe use after the flood. SERVPRO techs inspect the machinery and electrical connection, calling in experts if necessary to ensure putting your appliances back in service is appropriate and unlikely to put you or your family at additional risk.

Our crew inventories items stored in the flooded area and suggests we move them to a staging area for a more thorough assessment. Depending upon the types of property stored we employ different strategies to dry things out. Replacing stored items without looking for moisture and designing a drying plan is an invitation for mold and mildew to proliferate, ruining the items and endangering other articles and structures nearby.
Locally Owned Company with National Resources
Your beautiful estate hides potential plumbing disasters due to aging pipes and fixtures. SERVPRO of Santa Monica / Venice Beach is reachable 24 hours a day at (310) 395-9050 if a leak becomes a flood. We are ready with the plan to restore your classic home.
For more information regarding the city of Los Angeles, click here: https://www.lacity.org