I Think We Have Mold in Our Production Room, Now What?
9/10/2020 (Permalink)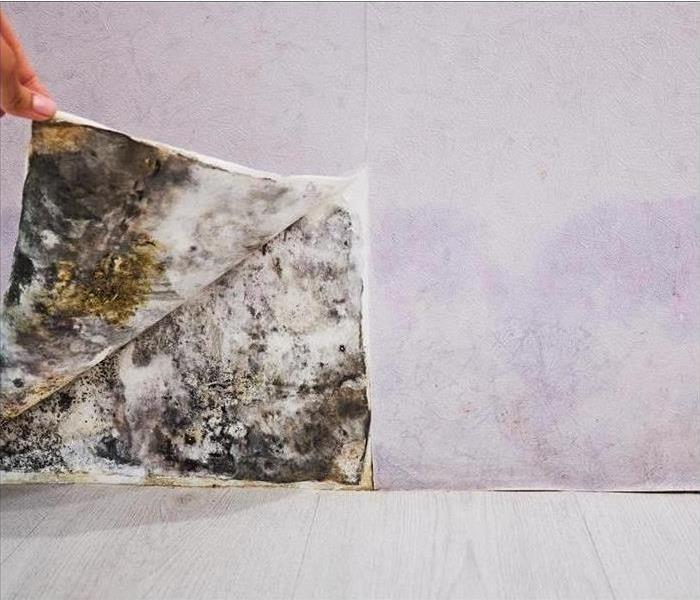 Mold can cause your customers to go elsewhere. SERVPRO is available to inspect your business for signs of visible and invisible mold.
When You Suspect Mold in Your Santa Monica Business, You Can Count on SERVPRO for Inspection and Remediation Services
Mold is never something you want to leave to chance, whether you suspect it in your home or commercial space. Once you feel as though you might have a mold infestation within your production floor, you must have the space assessed as soon as possible. SERVPRO has the training necessary to locate areas where mold is colonizing so that we can begin moisture detection and cleanup protocols. We work fast to ensure your Santa Monica business suffers little or no downtime so that you can stay on track with your production goals.
Do I Need Mold Inspection & Cleaning?
Contamination from the mold is a growing concern for all kinds of businesses. If you suspect that you have mold colonizing anywhere within your commercial space, it is vital that you contact the professionals for mold inspection in Santa Monica.
Mold is a fungus that thrives in damp places, known to grow in just about any area with moist conditions. When left unaddressed, mold can lead to potential health effects and harm your business's structural integrity. SERVPRO technicians have the necessary training to handle mold remediation. Our crew takes the time required to identify mold growth carefully to work on a plan for removal and sanitization.
What Should I Know About Mold?
Business owners need to know that some restoration entities will advertise their services as 'mold removal' in Santa Monica. However, the idea of completely removing mold from your business is not possible. Every building contains microscopic mold spores, so it is critical that you know some of the facts:
Mold is everywhere, both inside and outside of buildings.
Mold thrives in moist environments and quickly colonizes when spores become exposed to water. When this happens, the colonies can bring on adverse health effects.
Microscopic in nature, mold spores travel through the air and often enter into commercial buildings through doors, windows, HVAC systems, or on the clothing of people who enter.
Whenever a significant amount of mold is present, you may start to notice a strong, musty odor.
It is elemental that moisture or standing water areas get cleared up before mold remediation services can begin. Without this step, mold can quickly return.
It is best to note that higher humidity levels can create the ultimate atmosphere for mold growth. It is suggested that the indoor humidity of your building is kept lower than 45%.
Are There Signs for Which I Should Look?
One of the reasons that mold damage goes undetected is that it is usually hidden and hard to find. Should you have one or more of the following issues, you can contact SERVPRO to start the inspection process:
Problems with your HVAC system
Recent water damage or flooding
Leaks from burst pipes or machinery
Noticeable musty odors
Water stains or discoloration on ceilings or walls
In some instances, there could also be damage to the structure of your Santa Monica commercial space. Mold is known to grow on and eventually destroy materials such as:
Drywall
HVAC systems
Gutters
Foundations
Roofing
Furnishings, and more
What Equipment is Used for Mold Inspection?
SERVPRO features IICRC-certified technicians trained to handle a variety of moisture-related situations for both residential and commercial customers. When you call us in for mold remediation, we have a broad range of tools and equipment at our disposal. We are always upgrading our diagnostic and testing equipment to ensure we have the latest technology to help provide the best mold assessments possible, including:
Infrared Cameras –these tools are excellent for detecting hidden pockets of moisture, leading to toxic mold.
Digital Moisture Meters –this equipment provides us with the actual moisture percentage so that our crew can verify whether or not the surface in question supports toxic mold growth.
Indoor Air Quality (IAQ) Meters –these devices help record essential air quality metrics to give us a clear picture of your indoor conditions' commercial space.
SERVPRO is the team to call when you need help with professional mold remediation services so that your business is back on track:
We work fast to assess the potential mold damage, then create a mold remediation plan suited for your unique situation.
Our crew chief keeps you informed every step of the way, letting you know if it is best to call in an Industrial Hygienist (IH) expert to test for mold spores within your structure.
We help by assessing, inspecting, and then remediating the mold by removing any contaminated materials. We then scrape off any thin layers of spore growth followed by the application of EPA-registered antimicrobial agents.
SERVPRO of Santa Monica/Venice Beach is available when you need mold inspection and remediation at your place of business. You can reach us by calling (310) 395-9050, and we make it "Like it never even happened."