Minimizing the Impact of Water Damage in Retail Spaces in Santa Monica
3/12/2020 (Permalink)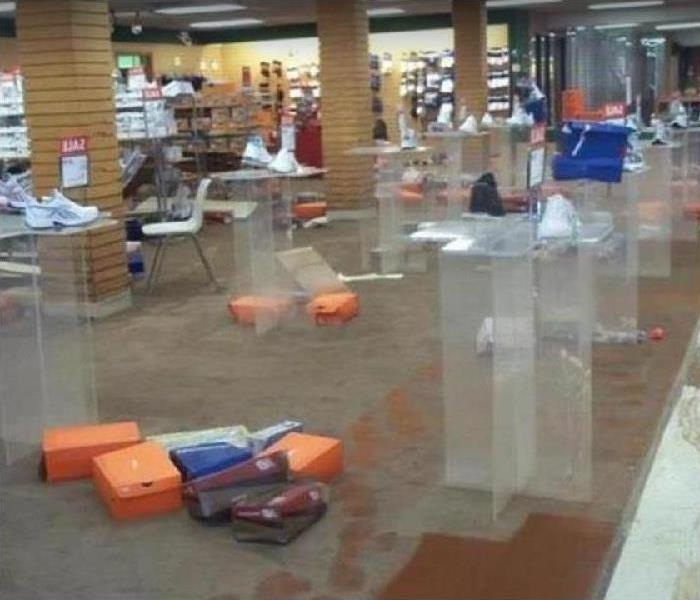 Don't let water damage interrupt your retail space. Call SERVPRO today for fast, effective remediation.
Planning for Continued Commerce While We Respond to Your Business's Water Damage in Santa Monica
Management of a water event in your Santa Monica retail space does not necessarily mean that you need to close completely. The reality is that shutting your doors even briefly to recover from a disaster can do significant harm to your business. Customers can panic if they feel you are unavailable, seeking out alternatives for the services and products you provide. We work with you to adapt your retail space during water mitigation and remediation so that you maintain a presence during the crisis.
Call Us Immediately
Let go of any concern you have about regular business hours when you call about retail water damage in Santa Monica. Our phone answers your inquiries 24/7 for two connected reasons. First, we know that water emergencies respect neither the workday nor the workweek. Second, any delay in responding can impact the success of water damage mitigation and remediation strategies negatively.
Flexibility Is Crucial
Open your mind to unusual short-term interventions that permit us to work faster and more efficiently. For example, allowing our team to proceed with some controlled demolition might be scary or upsetting if it ruins the decor of your shop. But the access it provides for our crew to reach and remove water trapped in cavities means we wind up the project more quickly. Containment of the water damage remediation space might require the erection of otherwise unsightly partitions. The progress we make behind the six mil polyethylene means a swift return to business as usual.
Always Have a Plan B
If your business model has you stocking a comprehensive inventory, prepare long before any disaster to protect your goods. Consider options carefully, keeping shelving and other inventory storage hardware away from plumbing lines and appliances and above the floor. Invest in waterproof storage pods or units that provide continuous protection. Raise equipment on blocks and use digital storage for business records.
Have a Customer Service Alternative in Mind
If you can manage most of your customers' and the public's inquiries online or over the phone during mitigation and remediation, follow that course. Identify spaces in your retail store that could stand-in for your regular checkout or ordering areas and swap them out if we must work on your retail floor.
SERVPRO of Santa Monica / Venice Beach is always willing to be creative as we provide top-notch water damage restoration services to local businesses. Contact us immediately after a water emergency at (310) 395-9050.
More about Santa Monica.