SERVPRO Will Restore Your Carpets In Santa Monica
4/12/2019 (Permalink)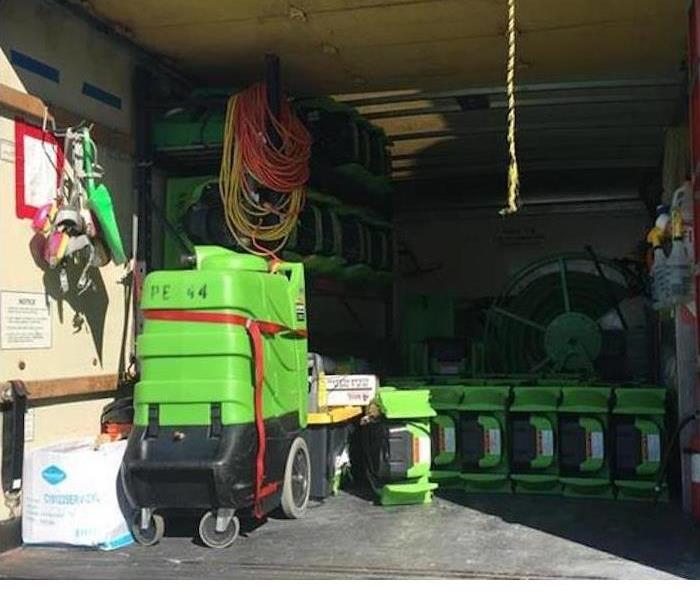 Our trucks are stocked and ready to go on a moment's notice twenty-four hours a day to restore your home after water damage.
Mitigating Water Damage in Your Santa Monica Home
A leaky pipe can seem like a trivial issue, but if left unchecked, can cause a slew of problems for homeowners and renters alike. An unexpected pipe leak allows water to seep into your carpet, leaving you with more issues from water damage than one person should have to handle alone.

If you find water damage in your Santa Monica home, such as wet carpet from a wall leak, SERVPRO technicians are here to mitigate water damage and restore your home to its preloss condition.

Upon arrival, our certified technicians can determine precisely where the moisture has spread under carpeting using tools such as moisture detectors and probes. Our moisture detection relies on the science of psychometry, which allows our team to evaluate temperature and humidity to remove moisture and dry surfaces effectively.

Through the use of air movers, which pull moisture out of surfaces and into the air, and industrial-grade dehumidifiers, which absorb this air moisture and expel dry air, carpet and walls are made dry. Wet carpet can be lifted from the floor by our technicians and tented in place to dry the surface as well as padding. Once drying is finished, a disinfectant is applied and subsequently dried to eliminate the risk of bacteria and fungus growth.

In "clean water" situations, where contamination is minimal, carpet and padding are salvageable. In "gray water" situations, where moisture has affected carpet for less than 48 hours, padding may need replacement, but carpet can often be dried and cleaned. In situations where the carpet has had exposure to otherwise clean water for more than 48 hours, carpet must first be evaluated in order to ascertain if it can be salvaged.

SERVPRO of Santa Monica/Venice Beach is here to serve the community 24 hours a day, 7 days a week. Let us know what our team can do to help you at (310) 395-9050 today.
A robust and diverse season of activities provides something for everyone, click here for more information.