How SERVPRO Removes Water from Los Angeles Stores Faster and More Effectively
9/5/2017 (Permalink)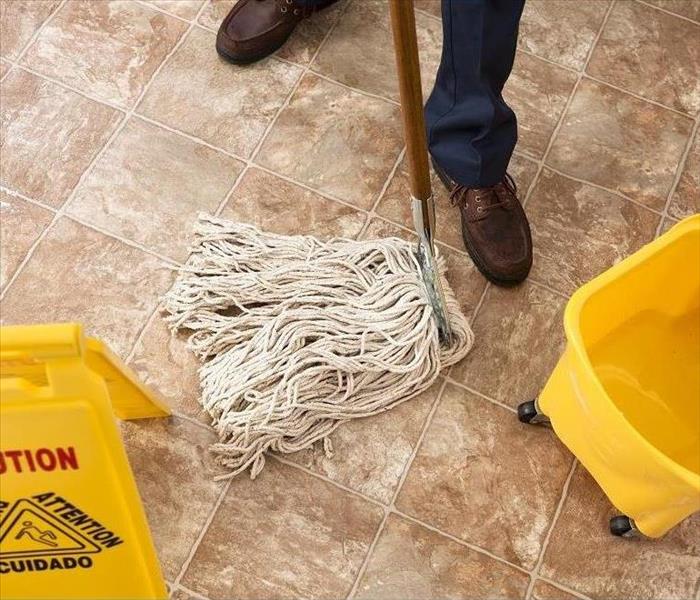 Using a mop to clean up water damage can leave behind hidden structural damage, be sure to call SERVPRO to thoroughly remove water from your business.
Rely on professional mitigation for your commercial water damage
In the aftermath of a water disaster, it can be tempting to try to conduct water removal from your Los Angeles retail store on your own, especially if there is no standing water. Many see the absence of standing water as a sign that a mop and wringer suffice to clean the place up and end up saving a few dollars in the short-term at the expense of considerable structural damage in the long run. Business owners trust SERVPRO not just for our famous customer service and restoration work, but also for our unique ability to properly mitigate and remove water from a commercial location without leaving any extra water behind.
If you attempt water removal in your Los Angeles store on your own, you most likely have no way to avoid leaving behind humidity, surface moisture and soaked in water. Getting these tougher, more ingrained spots of water requires specialized industrial equipment, like the machines carried by SERVPRO. Our array of thermal and chemical dehumidifiers, directed air movers, and industrial cleaning supplies help us to absorb water throughout the building, even in spots no human could normally reach. Furthermore, whether from mold or the water itself, severe water damage also tends to create strong odors in the building. Our advanced fogging deodorizers work to eliminate odors permanently, even those ingrained deep into woods and construction materials.
As part of our mitigation process, our inspectors will also thoroughly examine the establishment to find additional signs of damage or compromised structural integrity. Using thermal imaging technology coupled with critical information on the building, they are typically able to identify serious safety hazards and get treatment to them before larger problems develop. By calling SERVPRO, you ensure that your store gets a full, well-balanced treatment process, with no stone left unturned and no eventuality unplanned for.
SERVPRO of Santa Monica / Venice Beach helps local companies large and small to get back in shape after taking water damage. With an expert staff and specialized equipment, we are capable of overcoming a disaster of any size. Just call us at (310) 395-9050.
For more information about Los Angeles, visit https://www.lacounty.gov/.